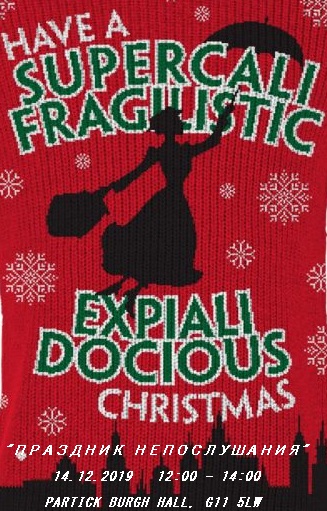 We would like to invite everyone to take part in the upcoming Christmas and New Years celebrations!
These will take place on December 14th from 12:00 to 14:00 at Partick Burgh Hall (9 Burgh Hall St., Glasgow, G11 5LW.)
The program will begin with a performance of "Festival of Disobedience", an interpretation of an old children's fairytale, featuring some unexpected heroes. As always, the young actors from all our classes at the Russian school will participate in the performance.
The program will also feature traditional songs, dances, games for both children and adults, as well as the New Year lottery! The children can look forward to some New Years treats.
We have two halls at our disposal – a large one for the presentation and a separate one for mothers and children.
The festival is organised in Russian, but the concert program and the fairy tales will contain comments and explanations in English.
Tickets cost £10 for children enrolled in our school, including a gift and a tea party (one parent per child can attend for free).
Tickets without gifts for parents and children cost £3.
For invited friends, tickets are £12 for children and £5 for adults.
Tickets go on sale on Saturday at the school from 11-00 to 14-00 at Adelphi Centre, 12 Commercial Road, Glasgow, G5 0PQ. You can also reserve tickets by calling us on 0141 5522144 or by emailing us at
[email protected]
We look forward to celebrating the holidays with you all! See you soon!